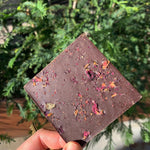 Rose petals have been revered as a symbol of love across the centuries. They are commonly associated with passion and romance, but they have so much more to offer.
Rose water is used as an astringent and beautifying tonic. It is greatly nourishing for the skin and can help with eczema, sunburn, and acne. Rose petals themselves have vitamins C, A, D, E, and B — complex minerals that are essential to the body. They are known to be mood-enhancing, anxiety-reducing, and soothing to sore throats, ulcers, bronchitis, urinary tract infections, and nervous tension. They are used as a calmative and relaxant, which is why they are also used as menstruation support and to ease inflammation.
Rose petals are one of the main ingredients in the Chocolita Moontime Rose bar. They are the most prominent herb in the recipe and are supported with other herbs that ease menstrual discomfort. I purposely chose herbs that are safe for men and women to consume, so the bars can be enjoyed by all. There are many herbs that affect hormone regulation, and I have strayed away from anything that could be used to increase estrogen or progesterone. Herbs that are altogether supportive of hormone regulation are the only ones that made the cut.
Most importantly, I wanted to create a bar that is representative of love. Self-love is an important part of everyone's daily cycle and should be an integral part of your day-to-day self-care regimen. Moontime Rose is a bar that allows you to reflect upon your love for yourself and your love for another. It is a bar that shows you care.
The bar is purposely dark and sensual like the moon and florally healing like roses, thus the apropos name. It is a carrier of the medicine of the balancing of cycles and love expressed — a great bar for Valentine's Day or any day of the year.