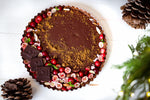 Prep Time 20 mins
Time to set up to 2 hours in freezer
Makes 10-14 servings 
I think we have done it. We have finally created the ultimate recipe for all our chocolate lovers out there- at least for now. We created this amazing tart dessert using our signature herbal supportive chocolates. If you are going to indulge in chocolate, this is just the way to do it. Joining this recipe today we feature Moontime Rose. It has a wonderful blend of herbs that support hormone balance infused with care and a great accent in this recipe. It pairs splendidly well with all the other ingredients.Please feel free to use any of our signature bars for this recipe they will all be great in this. 
This tart has a crunchy slightly salty gingery cookie crust  and the chocolate filling is smooth, creamy, like chocolate velvet. 
This recipe is so uncomplicated and easy to make, it's the perfect show stopping tart anyone, and we mean anyone, can make this season and wow a crowd. If you are going to a holiday party or get together we highly recommend this recipe as it is very beginner baker friendly and relatively quick to put together.
Ingredients
1 can of light coconut milk
4 bars of chocolita chocolate

 

3 cups of ginger cookies

 (we are using midel ginger snaps)

4 oz of melted vegan butter

 

1/2 cup of almond butter or peanut butter

 
Method
For the crust
1.) Melt vegan butter and set aside.
2.)In a food processor blend cookies with melted vegan butter.
3.) Transfer the cookie butter crust mixture to a spring form pan and form a crust around the edges with your hand or a spoon. When completed transfer to the coldest part of your freezer and let setup while your prepare the filling.
For the Filling  
4. Open and pour 1 can of light coconut milk into a saucepan and heat until comes to a gentle boil on stove.
5.) While coconut milk is heating on stove chop your chocolate into fine pieces.
6.) When coconut milk is scorching hot remove from stove and add your chopped chocolate mix well to combine with a whisk. Be careful when stirring.
7.) Add 1/2 cup of loose smooth almond butter or nut butter to the chocolate mixture and stir to combine. If the mixture cools down to much you can it back on the heat until the coconut milk, chocolate, and nut butter have all combined.
8.) Transfer the filing into the crust and take back to the freezer.
9.) Let harden up to 2 hours before decorating and cutting.
10.) Slice and enjoy.