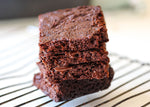 These Brownies are chocolatey, moist, chewy and delicious.  For today's recipe I used the Chocolita Dark chocolate as it has a high percentage of cocoa, and those deep dark flavors lend really well to the dehydrated coffee in this recipe. The dark chocolate and the coffee balances the sweetness of this brownie making it super flavorful and rich, but not too sweet. 
Really, you can use any of the Chocolita Chocolate. Have fun by attempting a blondie version by using the pine pollen chocolate, or add flare with the strawberry or blueberry chocolate. The kitchen is the playground. Hope you enjoy these amazing chocolate brownies and have fun in the kitchen. 
Recipe Makes 9 brownies
Prep Time: 20 mins
Bake Time: 30 mins
Ingredients 
4 bars of  chocolita

 chocolate
1 tablespoon of instant espresso or coffee  
2 tablespoons

 

ground flaxseed
5 tablespoons of almond milk or plant milk
3/4 cup

 

sugar
1 cup

 

vegan butter, melted
2 teaspoons

 

vanilla extract
1 cup of all purpose flour
2 cups of

 

cocoa powder
1 teaspoon

 

baking powder
1 teaspoon

 

salt
Method
Begin by preheating your oven to 350 degrees and pre-prepping a 8 by 8 square pan. Grease pan and line with parchment paper. 
1.) Chop 4-5 bars of chocolita dark chocolate into chunks and set aside half.
2.) In a bowl melt half the chocolate with the 5 tablespoons of vegan butter. A easy way to do this is microwave the butter and combine the chopped chocolate to it. The heat of the butter will melt the chocolate.
4.) Add dehydrated coffee to this melted chocolate mixer and set aside.
5.) Make the flax egg: combine the ground flaxseeds with almond or plant milk in a small bowl and mix with a fork. Set aside for at least 5 minutes to gel.
6.)  In a separate bowl add the rest of the melted vegan butter, melted chocolate mixture, sugar, vanilla extract, flaxseed egg with almond milk. Whisk well to incorporate. 
7.)  Sift in the flour, cocoa powder, salt and baking powder. Mix to combine.
8.) Lastly add the rest of the chopped chocolate and fold into the mix.
9.) Pour brownie batter into the pre-prepped baking pan. Make sure batter is even.
10.) Bake for 25-30 mins in oven. Each oven is slightly different so be sure to check your brownies using either the tooth pick method or monitoring by making sure sides are not becoming too dark. When done let cool for additional 15 mins. 
11.)  Slice up into to 9 pieces and enjoy.
 Thanks for reading.