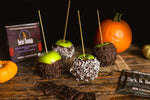 Seasons Greetings to our friends and chocolate lovers alike!!
We at Chocolita bring you another seasonal-and nostalgic recipe idea that incorporates our herbal chocolate with one of our favorite fall fruits. Apples!
Enjoy this recipe using any of our chocolate bars all seem to pair with well with the tart flavor of these seasonal green apples.
This nostalgic take on a caramel apple is a quick and easy recipe- great to make with your family and bring or serve at holiday get together or enjoy as a fun creative cooking project at home.  
In this classic recipe we will show you how to make a quick and easy vegan caramel, perfect to dip your apples in.
If you are trying to avoid refined sugars and do not prefer this recipe with coconut sugar you can also use pitted dates, and make a date caramel this is also delicious, nutritious, and easy to make.
Quick Caramel Date Recipe Here
20

 

large

 

pitted dates

 

(if not moist and sticky, soak in warm water for 10 minute then drain)

Water

 

(to thin)

1

 

pinch

 

sea salt

 

(optional)
Method
Blend dates in a food processor or high speed blender stream in water slowly until you have a thick caramel like consistency.
Sub for other caramel to dip your apples in!
Full Recipe Here
Ingredients 
4 Granny Smith Green Apples or Honey-crisp
4 bars of chocolita chocolate 
1 and 1/2 cup of cane sugar or coconut sugar
1/2 cup of coconut cream (from a chilled can of coconut milk) 
1/4 cup vegan butter (we are using earth balance here)
3/4 tsp of smokey sea salt
1 tsp vanilla extract 
For Topping: 1/2 cup of either chopped nuts, shredded coconut, chocolate sprinkles, or more finely chopped chocolate
Pre-steps start by getting all your ingredients ready. 
Prepare a small sheet pan and top with parchment paper and make a little space in your refrigerator. 
Chop vegan butter into small cubes or chunks.
Get the vegan plant milk ready
Remove the stem from each apple and press a craft stick into the top and place on a parchment paper lined baking sheet.
If you prefer you can slice apples into wedges and use this same coating method or recipe without the popsicle sticks or skewers. Have fun and get as creative with this idea as you like.
Apple Salted Caramel: 
1.)Add your sugar to a thick bottom pan and heat on low-medium heat. Do not stir the sugar in pan, we want it to melt on its own.  Once the sugar starts to change color and turn a light dark brown, use a heat safe spatula to gently mix the sugar around to make sure it has fully melted. 
Do not leave the stove during this step as the sugar can burn very easily 
2.)Once all the sugar has dissolved, slowly add the vegan butter to the liquid sugar. The mixture will be bubbling, just keep stirring.
3..) Turn the heat off and carefully add in a small amount of the warm coconut cream at a time. The mixture will bubble and splash so be careful.
4.) If the caramel separates, turn the heat back on and keep stirring until it all recombines before adding more coconut cream.
5.)  If your caramel is not thick enough, you can turn the heat back on low and stir very carefully, cook additional  2-3 minutes.
6.)Take off the heat and add some smokey sea salt or vanilla.
 With Caramel Ready Set aside.
Next we are going to Melt Our Chocolate to dip the apples in..
Method
1.) In a heat-proof bowl above simmering water, melt the chocolate and coconut oil. Then, set aside to cool. This is also called a double boiler and it's one of the safest ways to melt chocolate evenly. The heat is hot and yet gentle enough not to seize the chocolate. Seized chocolate is when the chocolate suddenly hardens, burns, or water is incorporated unintentionally. 
"Please be very careful not to get water in your chocolate".
Now Bring it All Together
Set out all ingredients on counter and in a assembly line like matter start by dipping the apples into the caramel rolling the apples around to make sure it is well coated and then dipping into the melted chocolate. 
Once fully coated place apples back on the parchment paper and add additional coatings if your choice either- chopped chocolate, shredded coconut, or chopped nuts or anything you can think of!
Place in refrigerator to allow to set for 15-20 until outer layer is solid.
Enjoy.