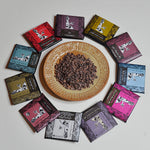 5 Reasons Why Pine Pollen is Healthy for Everyone
I enjoy using Surthrival's Pine Pollen. It's such an amazing and under-appreciated superfood. I use it in all my bars, and more of it in my Pine Pollen & Lemon bar.
Recently, I have talked to a few people (generally women) that have expressed concerns with using it because it is known for it's ability to boost testosterone. While I am not a medical expert at all, and do not intend on diagnosing anyone, I have read that testosterone is commonly deficient, and very out-of-balance with estrogen in most people's bodies nowadays because of how many xenoestrogens (estrogen mimickers) are in our environment and absorbed into our bodies.
Many women are showing up with lower levels of testosterone than in the past. It is beneficial to know where your hormones stand, and a blood test, or spit test, can give you insight. I was personally surprised to find out that I had had extremely low testosterone levels, and higher-than-average estrogen levels without showing any signs that would indicate otherwise. I'm very glad I had this looked at by my naturopath, and planned a corrective course of action!
That being said, I want to cater to everyone and I have limited the amount of Pine Pollen I use in each bar. I am a personal believer that too much of anything is actually too much (not the old adage, "never enough"). I use less than .3 % of Pine Pollen in my bars (including the Pine Pollen & Lemon bar). You would have to eat about a hundred bars a day to start raising concerns about your testosterone levels rising.  I love adding pine pollen though, because it's full of lots of other goodies that I do not want to do without.
I could go on for a long time about why I love Pine Pollen, but I'll condense it into 5 easy-to-digest reasons.
1. Pine Pollen is great for men AND women.
Concerning the Testosterone issue, I grabbed this great explanation from Surthrival's site,
"Because Pine Pollen is an androgen, it has developed a stigma around it that it caters strictly to the male population. This is untrue. Pine Pollen contains phenylalanine, which is associated with neurotransmitters in the brain. Phenylalanine stimulates dopamine levels in the brain and is a L-dopa precursor. L-dopa has been known to specifically treat a woman's inability to have an orgasm. Pine Pollen contains arginine, which improves fertility in women and men, as well as, increases growth hormone release."     Do I need to even get into explaining why this reason is so awesome?  Let's just move ahead to reason 2…..
2.Pine Pollen is extremely nutrient dense.
I'm going to steal another quote off the Surthrival site, because it's a pretty complete list of the awesome nutrient benefits of Pine Pollen,
"Pine Pollen can be consumed in large amounts to derive any of the wide range of vitamins and minerals it contains, such as Vitamins A B-Carotene, B1, B2, B3, B6, Folic Acid, Vitamin D, and Vitamin E. Its host of minerals include Calcium, Copper, Iron, Manganese, Magnesium, Molybdenum, Phosphorous, Potassium, Selenium, Silicon, Sodium, and Zinc. Oh, and another plus: Pine Pollen contains over twenty amino acids and all eight essential amino acids! Do you know what this means? It is a complete protein!"
Pine Pollen, like most other pollens, is a complete protein, and nutrient dense. When you think about it though, it makes sense. Pollen is part of the sexual act of the plant reproduction cycle. Sexual fluids, pollens, etc. are generally nutrient dense in order to support the life force that they are creating.
3.No bees have to be harmed in the gathering of pine pollen. It's a vegan product. It's hand-harvested.
You can literally tap a pine tree while it's pollinating and pine pollen will fly off into the air. Don't do this around people that have severe pine allergies, they won't be too happy with you about that. Which leads me to my next reason why this stuff rocks…..
4. Pine pollen, like other pollens, when ingested over time, can stave off allergies to itself.
This is because allergies are your bodies response to the environment as a foreign invader (it's an inappropriate IGE response, perhaps linked to our lack of helminths (worms) in the first world, but that's another blog topic entirely). When you slowly introduce that invader at low doses, progressively upping the dosage, you begin to familiarize your body with the "invader", and thus turning it into an ally.
5.It's an effective
anti-inflammatory
Pine Pollen contains gibberlins, which provide it with anti-inflammatory properties and anti-tumor properties. Considering inflammation affects a dramatic amount of people, I'd say this is a major win-over for why you should include it in your diet.
So yah. Pine Pollen is amazing. There's a reason why the Chinese prized it in Traditional Chinese Medicine. It's an amazing health tonic. There's so much more to go on about, and if you'd like to read more, I'd suggest reading this page
, and if you want to read even more, I'd suggest reading Steven Harrod Buhner's book on the subject.
Oh yeah, and get yourself some Pine Pollen & Lemon bars.