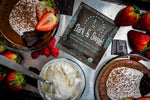 3 -Ingredient Chocolita Chocolate Mousse  
Prep Time: 20 mins
Total Time: 2 hours  (including refrigeration time)
Recipe Makes 2-3 servings 
         Keeping it simple, delicious and extra nutritious, this mousse is lightly sweet, velvety, fluffy, and oh so decedent..
Sure to satisfy the most intense of chocolate cravings. Top this homemade minimalist  mousse with a coconut whip cream, fresh fruit, nuts, chocolate shavings, and have fun taking this to a gourmet level while exercising creativity in the kitchen. 
This is an easy and uncomplicated dessert that will definitely impress your friends and family made with easily available ingredients that can be found in most everyday pantries. This dessert will last up to a week in the fridge comfortably. Making it a perfect and easy dessert to make in advance and keep around for any occasion. 
The 3 special ingredients we are using in this recipe, which still blows my mind are: Liquid from a can of beans, or aquafaba, yes.. bean water.  For this recipe we are saving the beans and just using the liquid. We are also using 2 bars of chocolate or 70 grams of Chocolita Dark 80% Cocoa Chocolate and a little bit of coconut oil. Yep, thats it.  
Ingredients 
The liquid from 1 (15oz can) of chickpeas or 1/2 cup

(You can use liquid from a can of white beans also. Most liquid from beans will foam or work for this recipe.) 

70 grams of dark chocolate (we are using Dark Chocolita Chocolate equaling 2 bars)

1 tablespoon of coconut oil or can sub full fat coconut cream
Optional Ingredients  
 Maple syrup for desired sweetness
Fresh fruit and coconut whip cream for final topping
 Smoked sea salt
We make this recipe so fluffy like traditional Mousse  by making a Meringue,  or white fluffy eggless whip. This we create with Aquafaba or bean liquid, and then carefully fold the Meringue into the cooled melted chocolate, finally we refrigerate the mixture for up to 2 hours and tada! We have a beautiful and exceptional, Chocolate Mousse. 
Lets Get Started...
What you will need. 
1. Large metal mixing bowl
2. Metal whisk or better *electric whisker recommend.
3.heat proof metal or glass bowl for double boiler and small pot
Method
1.) In a heat-proof bowl above simmering water, melt the chocolate and coconut oil. Then, set aside to cool. This is also called a double boiler and it's one of the safest ways to melt chocolate evenly. The heat is hot and yet gentle enough not to seize the chocolate. Seized chocolate is when the chocolate suddenly hardens, burns, or water is incorporated unintentionally. 
"Please be very careful not to get water in your chocolate".
2.) 
Over a sink start by opening your can of chickpeas and separating the beans from the liquid inside. Place the liquid in a large mixing bowl.
Note:
 It is really essential 
not to dilute the bean water
 in any way. What we are trying to do here is combine air into the bean water to create a whipped vegan version of Meringue. Adding any additional water or diluting the bean water in anyway will prevent the mixture from turning into a fluffy Meringue and ruin your Mousse. 
3.) Using a electric mixer beat the aquafaba for 10-15 min until you see stiff peaks and the mixture looks similar to whip cream. It is essential to get this mixture as fluffy as possible. 
4.) Gently fold the slightly cooled melted chocolate into the whipped aquafaba until it's  incorporated. Do not overwork the mixture. The point is to keep as much aeration into the Mousse as possible. At this time you can add additional sweetener as preferred or smoked sea salt.
5.) 
Pour your Mousse into serving bowls seal and refrigerate for up to 2 hours. This will help the Mousse properly setup.
Enjoy with your choice of toppings and share with love!