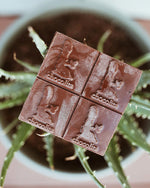 Is Dark Chocolate Healthy?
Chocolate, while delicious, is not all created equal, and so when looking at the darker shades of chocolate, one might wonder is dark chocolate healthy? It all comes down to the ingredients that are used and the brand that stands behind them. Compared to milk or white chocolate, dark chocolate contains more flavonoids, which offer the body an abundance of antioxidants and anti-inflammatories. Dark chocolate typically does not contain milk or sugar, which means it is not going to spike blood sugar levels or offer unhealthy fats.
What Types of Dark Chocolate to Consider
Again, not all chocolate is created equal. When trying to find a dark chocolate that is going to nourish your body rather than tire it or overload it with sugars, you will want to look with a few important things in mind. Raw dark chocolate, high-quality cocoa, and no added fillers are all things that make dark chocolate healthy. Luckily, there is a brand on the market that delivers these kind of ingredients: Chocolita. Taste the Difference Chocolita creates unique, hand-crafted chocolate that is raw and made with whole stone-ground beans. It is the quality of cacao that is used to craft their magic that sets their chocolate apart from others. Those who get the chance to indulge in a piece of this chocolate will delight in tasting rich heirloom Arriba Nacional Cacao from Ecuador. Because of the nutritious contents that go into each square of Chocolita chocolate, tasters are treated to many health benefits that answer the question is dark chocolate healthy? Chocolita's chocolate is pure, low-glycemic, free of fillers, and comes in exotic flavors.
Benefits of Dark Chocolate
Dark chocolate is packed full of vitamins and nutrients, like iron, magnesium, copper, and fiber. They also are an amazing source of antioxidants which work to keep the heart, blood, and brain health. Which in turn, helps prevent heart disease and depression. So, you can stop asking yourself: is dark chocolate healthy because it clearly is.
When it comes down to it, chocolate is a popular indulgence. However, it is important to choose a healthy dark chocolate to fix your craving! And, Chocolita is a great healthy choice that is delicious and nutritious with each bite you take.