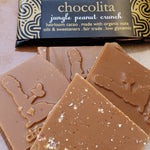 Healthy Chocolate
Healthy chocolate is the new jam. Chocoholics, chocolate lovers and occasional indulgers dream of a chocolate that's not only guilt-free, but healthy. This is why Chocolita exists.
01.Ingredients & Flavors
The purpose of Chocolita is to provide exotic and nutritious chocolate products. The healthy chocolate bars are GMO –free. Ingredients are wildcrafted and organic. Check the back of the bars to find more information on the ingredients. USDA certification is not available for all the healthy chocolate bars because of the nature of wildcrafting; however, Stellar certifies the ingredients' purity.
Healthy chocolate is available in a variety of flavors, which would be unique and exotic. The unique flavor and being healthy at the same time is a win-win for any chocolate lover. Even for those who are not very fond of chocolate, this chocolate would be a must try because it is healthy.
Stone-ground beans: Dark bars are composed of store-ground beans to provide the perfect blend and taste of rich chocolate.

Heirloom: Healthy chocolate bars comprise of heirloom Arriba Nacional Cacao from Ecuador.

No fillers and Junk: There is no processed sugar, fillers, gluten, corn, soy, and it is free from soy as well. What else, a chocolate lover would dream about?
Low-Glycemic Sweetener: This healthy chocolate by Chocolita is a perfect answer to anyone limiting their sugar intake's prayer, as it's comprised of low-glycemic sweeteners. The glycemic index is 30-35 for the coconut palm sugar.
Indulge in the savory treat, which is healthy and full of nourishment. It is not a dream anymore but a reality to enjoy chocolate truly without guilt!