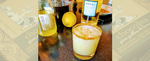 Originally posted by The Rookie Barkeep
Confession time… I'm a total Kickstarter addict. I buy tons of crap I don't need, whether it's a new micro-controller (I'm also an Internet of Things junkie), yet another pair of headphones (did I mention I'm an audiophile?) or food (we know I like food). It's borderline compulsive behavior.
The good news is I occasionally come across cool stuff, like chocolate made by Chocolita.
Chocolita's Pine Pollen & Lemon chocolate is one of the most fascinating things I've tasted in a while. It's like creamy, cocoa-y, salty-crunchy liquid sunlight you can put in the palm of your hand. Or if you're raw food chef Joy Love Light, whom Chocolita proudly quotes on the product details page, "Pine Pollen Lemon – Sexxx in my mouth!!!"
Indeed.
But seriously – pollen! Like the stuff bees go around and collect on their quest to produce delicious honey! How could that be bad? (Um, actually. Some people have anaphylactic reactions to pollen, so feel free to omit that ingredient.)
Three other things that are relevant before we get to the drink part:
I've been pursuing my new relationship with bitters, and in checking out a sampler pack of Scrappy's, I was particularly intrigued by the chocolate bitters. Because… chocolate.
I've also been known to make limoncello. I haven't done this as much lately because it's easy to overindulge, but I do have a small cache squirreled away that I've been itching to use.
I'm also obsessed with Koval's Oat Whiskey aged in toasted barrels. It doesn't overwhelm like bourbon or rye (or even Koval's Oat in charred barrels), but it still has a nice whiskey presence and offers a mellow, creamy richness you're not going to get elsewhere.
You can see where I'm going with this.
My first attempt wasn't great. I poured the oat whiskey and limoncello over ice and stirred, then strained it over ice in a pollen-rimmed glass and added a shit-ton of chocolate bitters. Whoa, was it bad.
First, the limoncello was too overpowering, but I still needed the lemon flavor, so I cut it with actual lemon juice. Much better, but missing… creaminess.
Adding actual cream at this point would curdle with the lemon juice (gross), so I shook it up with an egg white to make more of a flip. Much better, but not chocolatey enough.
Now, because I apparently like my life to be overly complicated, I decided that nothing less than homemade white creme de cacao would do, so I rocked this recipe for white creme de cacao from The Drink Blog and hung it up for two weeks while I waited for magic to happen.
Meanwhile, the pollen was interesting but bland. Since I already had cocoa nibs on hand (because why wouldn't you make dark creme de cacao while you're at it), I ground the pollen with some cocoa nibs, a teeny tiny bit of granulated sugar, and the slightest bit of salt.
Here's where I'm at, which is actually pretty delicious:
For the rim:
lemon wedge
1 tsp pine pollen (Chocolita uses Surthrival)
1/2 tsp white granulated sugar
1 tsp cocoa nibs
pinch of salt
for the beverage:
1 1/2 oz Koval oat whiskey (toasted if you can find it)
1 oz white creme de cacao
1/2 oz limoncello
1/2 lemon
1 egg white
chocolate bitter
Prep your glass – I used a tumbler with ice, but I think this would actually be better in a chilled coupe glass sans ice.
Use a mortar and pestle to grind up the dry ingredients for the rim. Transfer to a flat plate wide enough to accommodate the rim of your glass. Wet the rim with the lemon, then press the rim into the powder to coat.
In a cocktail shaker, squeeze the lemon half over ice and add whiskey, liqueurs and egg white. Shake, pour into your glass (you might have a bit extra, you're welcome!) and freely dash in some chocolate bitters before serving.
What's next:
Florals. I'm considering dispensing with the limoncello (sigh, guess I'll have to find something else to do with it) and using some flowery liqueur instead, like elderflower or Koval's Chrysanthemum and Honey Liqueur.
Because "that's too chocolate-y," said no one, ever. The pollen is also a really nice touch, but the cocoa nibs aren't enough to flavor it up. I'm considering grinding up a dark chocolate bar with the pollen and salt, then plastering it on the rim with some honey.
Who you callin' a cocoa nut?? I'd like to try making the creme de cacao with coconut sugar since that's truer to the Pine Pollen & Lemon chocolate bar flavor. For this batch, I used granulated sugar – given I was going to have to wait two weeks as it was, I wasn't willing to risk altering the recipe.
For more great drink recipes and ideas follow The Rookie Barkeep!